Аbstract Flooring Decor for Living room № 651788956
281.68 лв. – 4,694.64 лв.
Price: 117,36 BGN per square meter
Product Description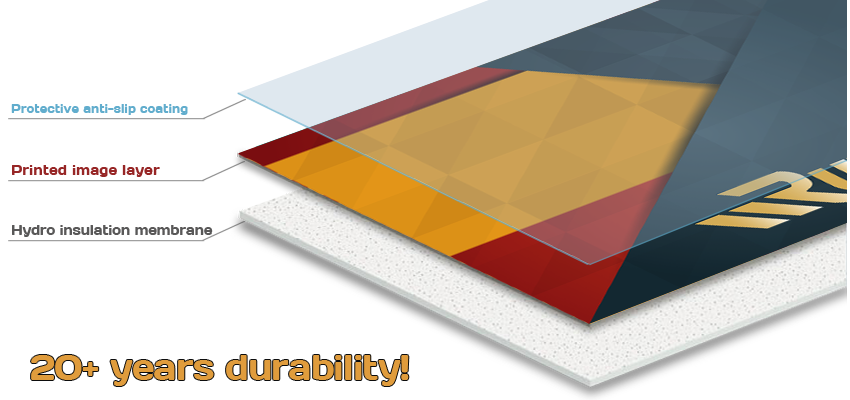 Polyester  fabric textiles , double coated with compositions based on plasticized polyvinyl chloride.
Application
Decorative floorings suitable for business advertising, shops, offices, corridors, rooms, including wet rooms / bathrooms /.
The color range is determined by the patterns of fabrics, their color is exalted by the transparent coating .
Characteristics and advantages
Watertightness
Resistance to microorganisms.
Resistance to aging
Dimension stability at low and high temperatures
Flexibility at minus temperatures
Anti-slip
Does not contain DEHP / DOP / plasticizer
Does not contain toxic additions
Possibility for laying on different types of floors
Appearance: Rolled product
Composition: 
Upper layer – transparent coating of plasticised polyvinylchloride
Middle layer – 100% polyester fabrics
Under layer –  colored coating of plasticized polyvinyl chloride
Storing: Rolls must be stored in horizontal position in the original packing without direct exposure to sunlight, rain and snow.
Visible defects
Not present
EN 1850-2
Thickness
1,3-1,5 (-5%/+10%)mm
EN 1849-2
Mass per unit area
1,7-2,0 (-5%/+10%)кg/m²
EN 1849-2
Tearing strength
EN 12310-2
warp
≥250N
weft
≥250N
Reaction to fire
Class F(EN ISO 11925-2)
Classification EN 13501-1
Water tightness
complies
EN 1928 Method B
Water absorption
≤0,3%
Resistance to artificial aging
complies
EN 1296
Changing the sizes after thermal
treatment (80˚С, 6h)
EN 1107-2
warp
±1%
weft
±1%
Foldability at low temperature
/ without cracking /
up to -30°C
EN 495-5
Appropriate ways for  laying
They are laid directly  without sticking  or  with . When bonding  are suitable the dispersion adhesives for sticking of  PVC flooring to concrete and wood.
Cleaning: For cleaning schould be used a water or solutions of neutral or alkalescent cleaning compounds.
Application limits
Temperature: Must be avoided any kind of direct heating or contact with hot surfaces.
Cleaning: When cleaning , do not use sharp or abrasive objects . It is inadmissible the cleaning with strong alkaline solutions or with organic solvents.
Health and safety information
Ruvitex 3D Decor is an article within the meaning of Regulation (EC) 1907/2006 Article 3.3. A Material Safety Data Sheet following EC- Regulation 1907/2006, Article 31 is not required for the product when sold, shipped or used. The product has no harmful effects on environment and human health when stored and used as specified.
Reach
Regulation of the EU on chemicals and their safe use!
ЕО 1907/2006 /REACH/
Ruvitex 3D Decor is an article within the meaning of Regulation (EC) No 1907/2006.The product does not contain any substances intended to be released from it under normal conditions of storage, use and service. Therefore, there are no registration requirements for substances in the article within the meaning of Article 7(1) of the Regulation.